Welcome to "What Turned You On?" the Serial Optimist series that is all about inspiration and influence. We've been talking with musicians about the one album that changed their life, the album that turned that slow burn of curiosity into an uncontrollable fire, the album that straight up turned them on. This week we feature three Brooklyn musicians – Sufjan Stevens, Jarvis Taveniere of Woods and Blake Schwarzenbach of Jawbreaker, Jets to Brazil, The Thorns of Life, and currently, forgetters.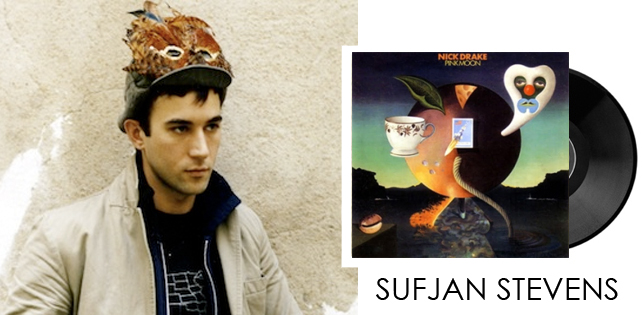 Album of Influence: Nick Drake – Pink Moon (Rykodisc)
Stevens: "Eleven songs in less than half an hour, with just one guitar (a few piano notes on the title track): this album has timeless, unpretentious guitar playing, satisfying chords, prophetic lyrics, and an emotional environment that stays with you for years. Nick Drake's singing has a closeness that is rarely caught on tape. I don't believe in sweetness. There is nothing sentimental or sweet. You get the feeling that these songs are necessary."
Stream and purchase Sufjan's 58-track Christmas album, Silver & Gold , released from his label,  Asthmatic Kitty, here.
Sufjan Stevens – "Silver & Gold"
____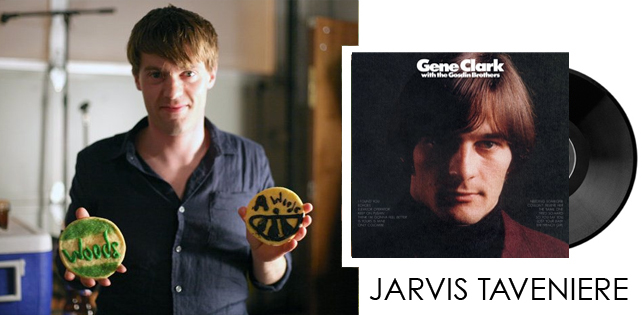 Jarvis Taveniere of  Woods

Album of Influence: Gene Clark with the Gosdin Brothers
Taveniere: "That voice! It breaks my heart. This was the first of his solo albums I bought and I quickly became obssessed with his music and self destruction. It made me go back to those first few Byrds records and realize the weight behind some of those tunes. I've got a soft spot for the bonus cover of Ian & Sylvia's The French Girl too."
Woods latest album, Bend Beyond,  is available from Insound.
Woods – "Cali In A Cup"
____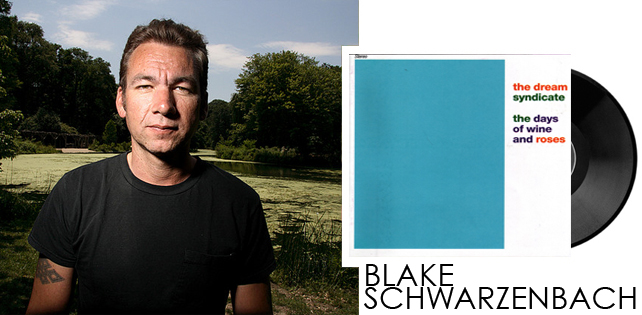 Blake Schwarzenbach of Jawbreaker, Jets to Brazil, The Thorns of Life, and forgetters
Album of Influence: The Dream Syndicate – EP or "Days of Wine and Roses"
Schwarzenbach: "The importance of New York artiness and London seriousness to L.A. in the early 80s has been given scant acknowledgment, but it provided a vital and chancy language for bands that wanted to cultivate a sense of nocturne and 'go dark' in Southern California. It should be remembered that there was almost nothing in the cultural landscape to encourage such predilections at the time. For a film town, L.A. had absolutely no sense of theatricality in 1982. People wore light clothes and aspired to comfort as a universal human value. Mass culture celebrated the sun, the unchanging weather, militarism, brazen corporate advancement and an overall cynicism that could only have succeeded the psychotic implosion of the 70s. Joan Didion pretty well put a stop to that idyll with "The White Album."  Under Reagan, hippies were seen as dirty killers and California had discovered small foreign foods, civic disengagement and espresso. Liberalism was absorbed into the police state probably most succinctly under the wild terror of serial killer Richard Ramirez. Neighborhood Watch signs began appearing in front yards across the city. Music, on the whole, was sunny and about sexual gratification and extreme partying.  It was time to finally feel good. This passed as culture for almost a decade. In the midst of all this, myriad subgenres of dark, cerebral music began to blossom like desert flowers in the southland. Certain groups seemed to sense the cultural vacuum and poured themselves into it with all the courage and comfort that comes from knowing that no one really cares. These bands wore make-up and too much clothing and had grandiose, existential lyrics about death and atrophy and hallucinatory nervous breakdowns."
"TSOL, The Gun Club, X, The Dream Syndicate, Green on Red, Wall of Voodoo, 45 Grave and Saccharine Trust came to occupy and blow apart my imagination at this time.  But it was The Dream Syndicate that really captivated me, probably in the lazy way that a teenager can only be expected to change some working piece of vinyl once every few days. I listened to their EP and "Days of Wine and Roses" over and over again and it gradually became the soundtrack to my frustrated days and nights.  After school, the opening riff of "Tell Me When It's Over" provided a rich sanctuary from the many humiliations of being a dark dreamer in LA at that time. I finally saw them open for The Psychedelic Furs at the Santa Monica Civic auditorium in 10th grade. They were totally unprofessional – long, awkward spaces between songs, sloppy, druggy oration, and thirty minutes of feedback when they were done. That last part really won me over.  This transitional feedback, while ear splitting and suffocating, was a beautiful palette cleanser between the two bands. (As a local kid bent on his own destruction I also loved that they were just fucking with the whole operation.)  They were the band I went home thinking about that night. And Karl Precoda, their wet-eyed, cross-wearing freaky guitarist, came to preside over my writing.  He could articulate a line in a stumbly, broken way that held and always risked losing the script. And he played jangly lines and feedback, not chords, which gave the band this enormous texture and lilt.  But he never lost the color of the tune. Melody always prevails in The Dream Syndicate, which is a real triumph when you think about it, because they were so unabashedly beholden to the Velvet Underground, but I think they recognized the power of melody and rhythm as the two could work together within a song. "Then She Remembers" is now, I think, their highest achievement. It used to scare me, but now I just wonder at its courage."
forgetters latest album, Too Small To Fail, available from Midheaven.
forgetters – "Too Small To Fail"
____
SO Note: Tweet to @Serial_Optimist with artists you'd like to see featured.